;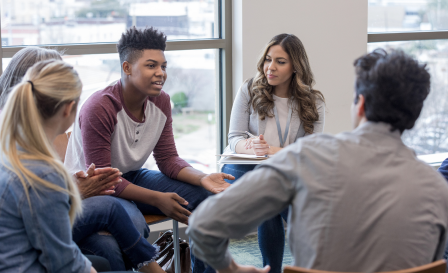 Adult Substance Use Programs
There are many paths to recovery. Our goal is to help you find the path that works for you. We will explore the best type of care for your needs after completion of an assessment. Substance use disorders include several classes of substances: alcohol, cannabis, hallucinogens, inhalants, opioids, sedatives, stimulants, tobacco, and others.
CONTACT A MEMBER OF OUR TEAM
Inpatient or Residential Services


Withdrawal Management

Withdrawal management services, supported by physician and nursing staff, are often the first step in building a successful program of recovery. Medications are used to manage your withdrawal needs, most commonly for alcohol, opioids, and sedatives.

Inpatient Treatment

Individuals that require greater nursing support during early recovery can be managed in an inpatient setting

Residential Treatment

With gender specific programs, residential services provide a safe and supportive environment for individual's to build a program of recovery.

Medication Assisted Treatment

Medications to support your recovery can be evaluated as part of your treatment program.



Outpatient Services


Day Treatment
Day treatment, also known as a partial hospitalization program, is available with or without boarding. This program offers intensive group education and therapy services during the day with the ability to stay overnight or transition to a supportive home environment in the evening.

Outpatient Care
Outpatient care, including intensive outpatient and continuing care, provides structured education and group support to maintain a program of ongoing recovery. Daytime and evening groups are available.

Early Intervention Programs
These weekly education sessions target at risk behaviors, healthy decision-making, and development of communication skills to promote a healthy lifestyle.

Medication Assisted Treatment
Medications supporting your recovery can be evaluated as part of your treatment program.



Programming
Educational Groups
Group Counseling
Individual Counseling
Family Programming
Family Visiting
Leisure and Fitness Activities
12-Step Peer Support and Education
Individualized Recovery and Discharge Planning
Medical Support as Needed Including Medication-Assisted Treatment
Experiencing a Crisis?
For life-threatening concerns, call 911 or be taken to your nearest emergency department.
For mental health and substance use crisis support and resources, contact:
Trillium Place Crisis Services, available 24/7:
Peoria County - (309) 671-8084
Tazewell & Woodford Counties - (309) 347-1148